So this weekend on Saturday 7th and Sunday 8th of March we had our first major hack the space day, and much was achieved!
Workshop area now has a chip board flooring to prevent us causing damage to the laminate flooring in Unit 5
Kitchen worktops are cut to length and fixed to the units
Big shelving units are screwed to the walls
Donated equipment and parts were moved from the Shadowcat offices to the space
Laser was moved location along with the PC (including some comedy moments of Bob discovering how thin the metal was and bending it)
Laser modified to replace the USB cabling so the software licence dongle lives inside connected to a USB hub all nice and neat
Laser usage counter box purchased and wired up at one end. We worked out where to connect it in the cutter but didn't quite get to connecting it due to lack of ferrels
Tested issue with datum button for Just Add Sharks – don't press the datum button in Z mode with the honeycomb and slotted beds in as it will crash the head. The limit switch now needs moving
TV donated by Graham as spares or repair was mounted on the wall and the first signs of issue started to show with it. Percussive maintenance fixed this so there's probably a dry or loose joint that we need to find
Blew up the new board for the 3d printer that Bob brought with him (whoops – looks like the power connector was soldered to the board the wrong way around)
Got the chip from the new board to work on the old Gen7 3d printer board gaining a working board out of two not working boards
PAT tested the pillar drill, which passed!
PAT tested a PSU from Ian's house, which failed and went back home with him in disgrace
Realised that we can't run the extractor past 21:00 in the evening as it's too noisy for the surrounding houses – sorry to the people who rang up to point this out. Noted and we will stop at 21:00 in future.
So all in all a very productive couple of days! Massive thanks to Bob Clough from Hackspace Manchester (Hackman) who came up to see us to use the laser cutter and and help out. The A-Maze-Balls project is looking very exciting in the flesh (that's what Bob was cutting out).
Come and see for yourself at our open evening this and every Wednesday from 18:00 onwards!
A-Maze-Balls box being cut: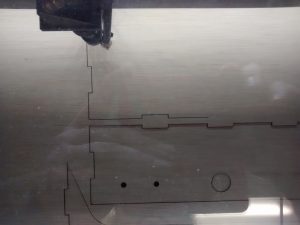 Laser cutter in new location on top of chipboard flooring: